My last progress report was posted way back in September 2007 and I thought I had better get my act together and post an update.
It's been an interesting few months since my last update; my original ortho sold the practice and between October 2007 and January 2008 I had the grand total of zero appointments which had me worried, anxious, deflated, depressed, etc etc. However, since the new owners sorted things out things have got a lot better and I've had regular monthly check ups and I've got no problems at all with the new ortho.
I even had enough bottle to take part in the Guardian (UK newspaper) piece on adults in braces which was published in February. If you told me 12 months ago I would do that I would have called you crazy.
My last adjustment was last Wednesday, 9 April and I'm now the proud wearer of 2 'interarch' elastics as apparently my bite just needs fine tuning and the lower arch brought forward a little.
From what the ortho says, I may not have that long to go and it's now just the fine tuning of teeth positions. More elastics may be needed but as I think it's gone pretty well so far then I'm happy to do whatever is necessary to get the best result possible. Hopefully, the pics have come out okay and you can see the new additions
All the best
Mike
May 2007 - Upper brace fitted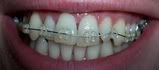 July 2007 - extraction and lower brace fitted

April 2008 - new elastics