Hey folks
First I gotta say its kinda strange standing there in the bathroom taking pics of my teeth, but I'm hoping this will get me some answers on possible things to treat my problem. Also, this is quite a long post, if you don't want the history just look at the pictures and the text below it.
I've been walking around with an overbite for a long while, I started wearing braces and had 4 molars removed when I was 15 years old, after wearing them a year but not taking my teeth and their health seriously the orthodontist got sick of me and decided to just remove the braces. Back then I had a lot of stuff going on in my life and I couldn't really care much about how I looked or whether it would get worse.
Now I'm 22, and I'm starting to get really insecure about my overbite and overjet, I have already gone to the orthodontist but they gave me a bad feeling, they looked at my teeth for a short while and really rushed things, explained that I needed to wear braces for 2 years combined with a jaw surgery for my lower jaw.
I asked if there was another solution like just wearing braces and then they told me I had to remove more molars and wear headgear for a while, and it MIGHT get better but it wouldn't be perfect (not that I want it to look absolute perfect or anything)
Anyway I was kinda rushed out of the door and didn't really feel much informed after my last appointment, so I made another appointment but the first consult will be on the 15th of January, and I'd really like some insights from you guys on what might be possible and how bad things are.
Here's some pictures I took with my cellphone, I'm sorry they aren't great quality but this will have to do for now.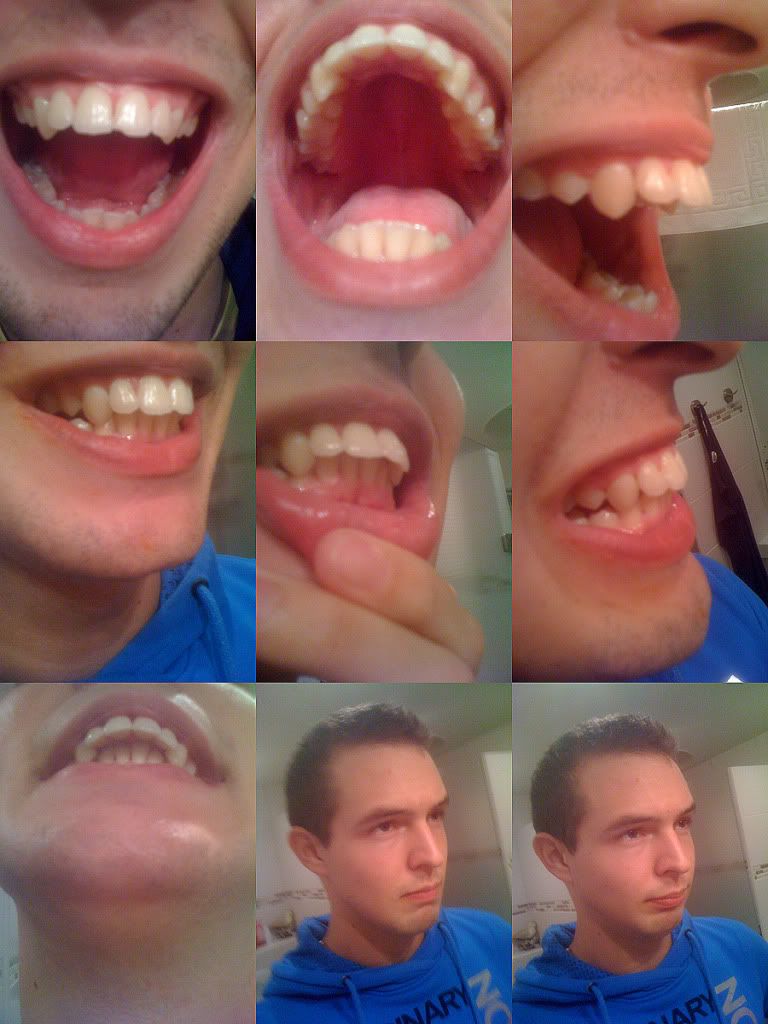 I have about 1 cm overbite according to my orthodontist, but I'm not really worried or bothered much by my overbite, more about my overjet.
In about a year my canine teeth (?) started moving inward, and my upper incisors started moving upward and tilting forward, this can be seen clearly on the middle pictures.
And about the last 2 pictures of my face, the first one is in relaxed position, and I'm fine with the way that looks but my upper lip protrudes a bit compared to my lower lip, and I really feel my upper incisors on my lower lip when I close my mouth. I did not have this problem about a year ago when I still had an overbite.
The last picture is when I pull my lower jaw backwards all the way which puts all my molars on top of each other but doesn't really feel natural to me, and it makes my face look seriously weird.
What I really want to know is the following:
My wisdom teeth are all almost through but is it possible that this may have caused my teeth to shift forward even though my jaw is fully developed already? (Which I think it is at an age of 22, almost 23)
Also, is there any possibility for a compromise solution, like leaving the overbite but treating the overjet with braces? Because I don't really like the idea of jaw surgery especially if its only for cosmetic reasons.
I understand no one here can give me a definite answer about whats possible but I'm just looking for some insights from people who might know something about it. Please give me your thoughts and thanks for taking the time reading my post.