Hello, everyone!

I discovered this site right around the time I had my braces applied in December. Your stories have been such an inspiration to me, and I thought it was time for me to finally share my own and begin to chronicle my progress. I just had my 1st adjustment (at 7 weeks) yesterday, so I have a few comparison pics as well. :)

My story begins around Thanksgiving of 2008, right after my 23rd birthday and when I finally worked up the courage for my first ortho consultation (at least since I was a teen, at which time we couldn't afford to have it done). I wasn't entirely happy with the way things progressed with that office, but I luckily found in a second consultation an office that seemed perfect for me! I was very excited to get the process started.
12/11:
Once I chose the ortho, the next step called for extractions of all 4 first premolars. (I also need all 4 wisdom teeth removed, but I'm putting that off for a while... What? It's scary!!) That was a pretty stressful event, seeing how I've never even had a filling before and here I was getting 4 perfectly good teeth yanked out! But the dentist was wonderful talking me through it, and I was also glad to have my father along with me for moral support. Or to drive me to the morgue after I bled to death, heh. All-in-all, the experience wasn't even a fraction of the horror I was expecting. I only needed pain meds the first day. On day two I felt completely normal and even braved a bit of exercise; by day three I was back to solid foods!
12/18:
One week after the extractions--and one week before Christmas--the braces went on. It was definitely an odd feeling having them on...my teeth felt like they'd doubled in size and weighed a ton. I was afraid to smile at anyone--not really because of how they looked, but moreso because the brackets felt so huge I thought they might take an eye out! But it was only a week before I hardly noticed them anymore. Except when veggies and grape skins get stuck in them, that is! :P Eww!

So far, I have to say the most painful part of the process has been wearing spacers. Made doubly worse by the fact that they were put in by the ortho I decided NOT to go with, and the ortho I DID choose didn't even use bands! I had the most excruciating Thanksgiving dinner ever for no reason at all. But the extractions were nothing much, and while there will be days the braces make my teeth sore, they tend to be few and relatively far between. And they seem to proceed movement of a tooth, so I'm kind of excited when they ARE sore!


Well, that's my adventure so far. Now a few photos, showing the change as of my first adjustment (7 weeks in).

First, my "naked" teeth, post-extractions: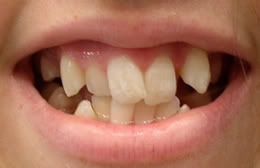 Here are my week 0 / week 7 comparisons: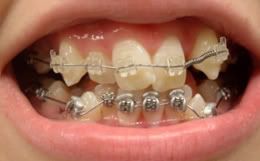 /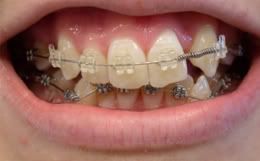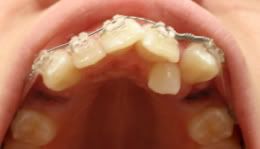 /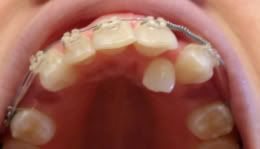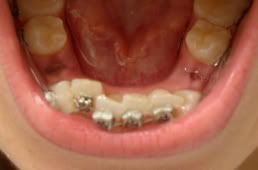 /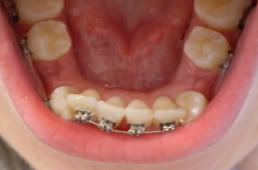 As you can see, on my brace day they used wire ties on my front teeth and silver ligs on the premolars & first molars. They also used that clear, stretchy tubing stuff (technical term) to tie my premolars to my canines, to start them moving back.

At my 1st adjustment, they only switched out a few wire ties, replaced the clear tubing, and wired my premolars & first molars together to stop the premolars from moving forward. Apparently I have rather stubborn canines, but hopefully this will be the encouragement they need!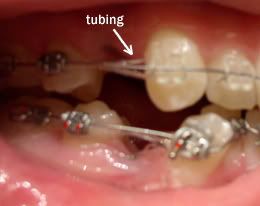 /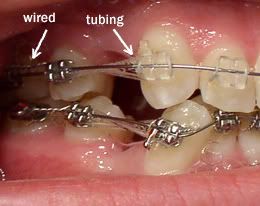 Well, I think that's about all I have to share for now. I'm really very glad I found this site...reading all your stories and advice has really helped me throughout this process! Thanks to you all for that! :)