A little bit about me: I'm currently 22 years old, finishing up my university degree. Ever since I was little (as in REALLY little, 6 or 7 years old) my teeth have been a HUGE confidence-breaker for me. I was teased from Grade 2 until about Grade 8, when finally my mother could afford to get braces put on my teeth. Here's where the REAL trouble began...
At 13 years of age, I had a consult with the same Orthodontist who did my older brothers and two of my cousins' braces. I've always had a severe overbite, and my left front incisor turned outwards, with the second incisor twisting behind. He told me that, due to my overbite, braces were needed and that I needed my jaw broken and reset in four places, and that because I was finished growing, an appliance would not do the trick. My mother agreed to go forward with bracing, however, she was horrified of the thought of her little girl 1) being finished growing at 13 and 2) having to go through that kind of surgery so young. So, we proceeded with braces, and, as it turned out, I was NOT finished growing (I was 4'11 and 75lbs then...I'm now 5'8 ).
My original treatment was supposed to last 3 years. However, since my mother was adamently against the surgery, the ortho said he would not promise my teeth would not move back where they were. He took my braces off after a mere 14 months, and, 6 weeks later, told me that I should no longer wear my retainers, as my teeth would not set. In reality, he was retiring and did not want to finish my treatment, but refused to refer me elsewhere.
Several months passed after getting my braces off, and I started high school just in time for a botched wisdom teeth extraction, and the subsequent bruising, swelling, scarring, and infection that followed. As soon as the swelling went down, I was met with another horrifying revelation: my front teeth, the bane of my first 15 years, had begun to twist and shift back into their old positions.
$5600 out of my low-income family's pocket, gone striaght out the window.
~~~
Over the next two years, I had several consultations with different dentists - my family dentist being one - and the new ortho who moved into my old ortho's office, all of whom blatantly told me that my bite problems could have - NO doubt - been repaired with an appliance and the completion of my bracework, but, as I had just finished a major growth spurt, and my family was entirely depleted of the little disposeable income they had had, it was not viable to attempt the appliance at this point. I had also begun grinding my teeth quite seriously at night. I cracked one tooth in half to the gumline, knocking out a filling and exposing the nerve. That, my friends, was painful.
I recall a specific meeting with my family's dentist, who also did bracework, where I literally burst into tears, because I was going into my final year of high-school and hated my smile so much I was afraid to get my graduation photos done and terrified at the prospects of prom, where everyone would be looking at me and telling me to smile.
Over the course of high school and my first few years of university, I toyed with the idea of getting braces again, but every time I had spare cash, something came up - textbooks were too expensive, student loans didn't cover my tuition costs, I lost my job and was unemployed for three months. Then my family dentist, who had quoted me at about $2500 for the work to be done, retired. I was devastated.
Cut to this past summer. The same dental office referred e for treatment with another ortho, who quoted me at $6800 for just the bracework. I politely declined, as I've only got a limited amount of time left on my mother's health plan and a limited dollar amount in coverage, and opted for a second (or twentieth by this time, if you will) opinion. I called several offices and got in that very day for a consult within a 20 minute bus ride of my parents' place (a feat, they live in the middle of nowhere).
I was sent to the dental school for a cephalograph, which revealed what I already knew - my bite was severely disaligned and it was causing wear on my cartilage.
After various consults and imaging sessions, I was met with "Jen, I don't say this often, if ever...but you are THE perfect candidate for surgery". My heart fell, and I'm sure he saw it on my face. "However, that is not my area of expertise, and if you are interested in that, we will get you in with the board of surgeons for a consultation. I can, however, straighten your teeth".
I could have kissed the man. From my first consultation, it took about a month to get the braces on my teeth. I got the top ones on October 22nd, 2008 - the 9-year anniversary of the first time I got them on. I'm being set up with a consult for the surgery, to determine the costs and such, as my province has very recently started funding functional cases, even though most private insurers (including mine) still consider it cosmetic. So, I may be able to have the surgery with no cost out of my pocket.
~~~
As I said before, I got my top bracketing and wires done on October 22nd. He used cemented brackets on my second-from-back molars, rather than molar rings, and a very light guage wire. He could not do the bottom brackets that day, as my bite is narrow on the bottom and my top teeth nearly cover the bottom, which would put too much pressure on the brackets. Instead, we're adjusting my top bite so that it is slightly narrower.
My first day was okay, but the next few my teeth were pretty sensitive. I compounded this by going out to celebrate a friend's birthday, having a few too many, and biting into a piece of fairly tough pizza. No damage to the braces, thankfully, but my teeth were sure sore the next day!
I returned around the second week of November to have the top braces checked, and to decide when to put on the bottom ones. As the top teeth had begun to move, it was decided that a slightly heavier wire would be put on and spacers placed for the bottom molar rings. I don't remember the spacers being quite so unpleasant the first time I had braces, but they were AWFUL! I felt like there was food stuck in my teeth for a week, and I couldn't floss my back teeth...not fun.
When I went in to get my bottom molar rings on, the right side went on perfect, without a problem. The left, however, was not cooperating, and would not go on far enough. This is the result of my nightly grinding, having worn down the crown of my tooth and altered the shape. After much pushing and biting and pulling, the rings were cemented in place. However, the receptionist had booked an appointment after mine, not leaving enough time for bracketing as well.
I went in this past Wednesday (December 3rd) and got the remainder of the bracketing done. One of the brackets is not tied in, as it kept popping off again (the tooth is significantly higher than the others). He also put the anchor brackets on my very back top molars, but did not tie those in yet. One of the first things the ortho said was "your top teeth are really straightening, they're coming along really nicely". I've noticed it too, as have my family and friends. I'm really quite pleased with the results so far, only a month and a half into the actual treatment and my top teeth are jut as straight as the day got my braces off the first time.
My only issue right now is the pain from the bottom braces. I can't rest my teeth together, as it hurts too much. I have sensitive bottom front teeth anyway, and it feels like they are constantly being over-stimulated with something cold, and my whole jaw is sore. I'm trying to keep up with my hygiene, but flossing is so excruciating it brings me to tears. I'm a little worried, as I have an exam in the morning and can't sleep from the pain
Last Edit I promise: more pics!
Before: note, the problem is functionally worse than it looks, and looks worse than these pics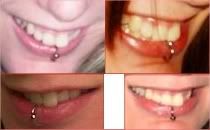 Day of bracing, October 22nd, 2008:
October 25th, 2008: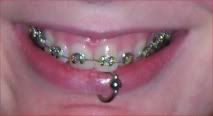 A bunch from today, one day after bottom bracing. The side-on one is showing that my front left incisors are no longer twisted
: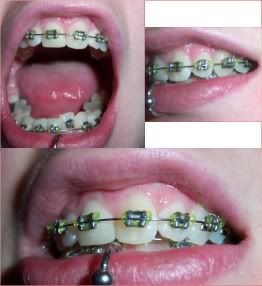 My smile as of today: