HI guys...im new on the forum...maybe i should start by introducing myself. I'm Kuda haha...I'm 18 on thursday and ive been braced for 13 weeks today. i've been lurking on the forum a bit and have been reading some of the brace stories and they are really inspiring, they made me feel better knowing i wasn't the only one going through this....slow torturous shadow of hell lol, shall i say hahaha....i really hope you like my story...
I've pretty much always known i needed braces but didn't have enough money to get them since my family aren't exactly bill gatesish hahaha....my thumb sucking when i was younger didn't do anything for my smile either hahahahha. i had one tooth extracted from my upper teeth, it was a baby tooth
sorry i dont have a before braces pic to show you the little bugger. I really wish i still had one hahah.
My bottom teeth are seriously spaced out...i mean like seriously haha because i have one tooth missing maybe you will notice it in the pics because i only have 3 front teeth instead of the normal 4, my orthordontist said i will need an implant at the end of my braces treatment....(im dreading the pain of that haha).
I have a gap where i got the baby tooth extracted on my upper teeth, I think you will notice my midlines are seriously out of sinc too lol. hahaha...hopefully my ortho will be able to get them perfect too. I know it's maybe a bit overdue to start one but i just wanted to share my story with everyone on the board because i really enjoyed reading everyone's story...hopefully some of the readers will enjoy my story.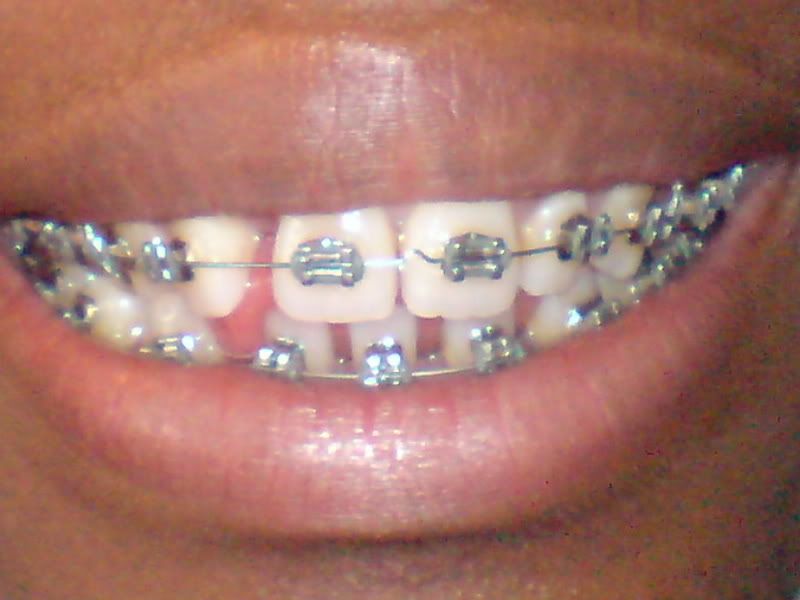 This is a pic of my teeth after 4 weeks...sorry i dont have an earlier one. MY teeth don't really look much different from that except i have metal overthem hahaha. As you can seen i have ridiculous spacings haha because of the missing tooth and the extraction. my teeth on my right side...left to you guys hahaha...kind of jut out so when i bite with my right side its not all even if you know what i mean haha.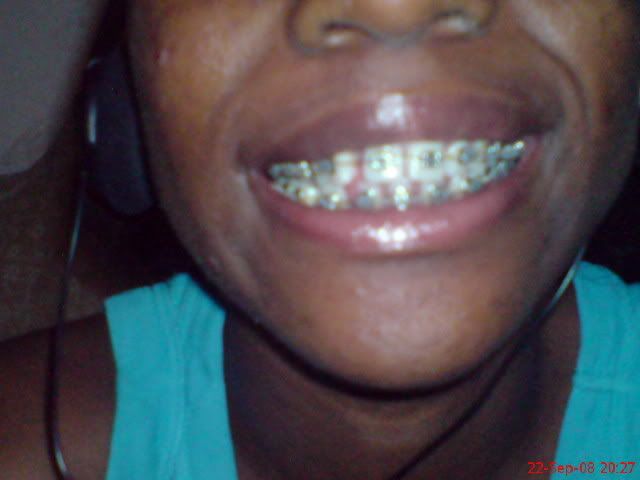 If you can seen anything in this pic...kudos to you!!!! haha...i can't seen anything...its the only progress pic of 7 weeks i have...i really should take more ha....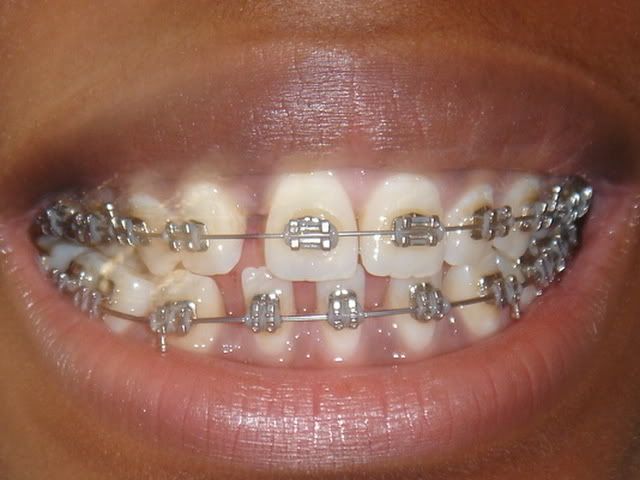 This one is the front view at 12 weeks...a lot clearer huh??? hahaha. I don't really see any changes i dunno...what do you guys think. my ortho said he is focusing on straightening them out first before closing any gaps...but i have no idea what he is talking about naturally.hahha..
here is another pic of 12 weeks..maybe clearer.
a side view of my right side...this is the worst of the two sides as you can see. compared to this one.
So far i had 2 adjustments...been braced for 91 days hahaha. on my second adjustment i got knew wires top and bottom...maybe you noticed them. this was last friday so i'm still surviving on soup and painkillers hahaha.