Hi all. I'm 25 years old and just got braced for the second time on 3/13/08. My story originally started when I was 10 years old. I had a very narrow upper arch and an overjet. I wore some type of upper palatal expander for awhile, then wore braces on just the top four front teeth for 2 years. Back then my bottom teeth were straight and I remember not yet having all of my adult teeth.
After the braces were removed and about a month or two into wearing my retainer I was at the beach boogie boarding and somehow collided with another kid, the front of my jaw hitting his skull. The ortho let me take a break from wearing the retainer because my front teeth were sore and felt slightly loose. During that time my father left his job and lost his dental insurance. He didn't think that I needed to go back to the ortho and thought I could just use the same retainer after my mouth healed. Needless to say, he was wrong. I was never able to wear that retainer again and he wouldn't pay for another one.
In addition to not wearing the retainer, the rest of my adult teeth came in and over the years the overjet returned and my bottom teeth became crowded and crooked. In middle and high school I wasn't really bothered by the appearance of my teeth, but in my early 20's I started noticing how bad they were and wanted braces. The only thing in my way was finding a way to pay for them.
In late Feb. I had a consult with an ortho who uses my dentist's office and at the very next appointment, 3/13/08 I had my xrays and impressions taken and had my braces put on the same day!
Sorry for the bad quality and chapped lips, but here's a pic from the day I got my braces on:
3/13/08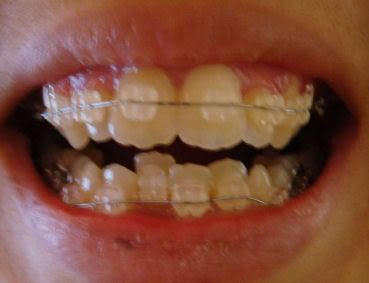 Here's some from today. I see a bit of movement.
3/24/08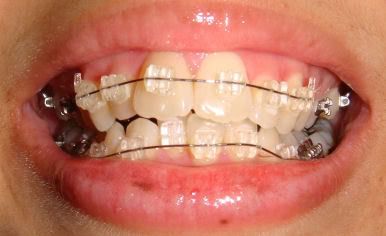 This angle shows the overjet.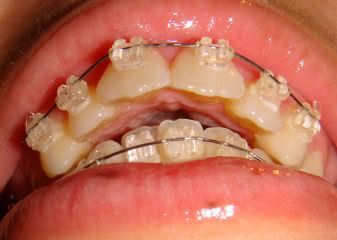 I'm scheduled to have my top first premolars and impacted bottom wisdom teeth extracted towards the end of next month.
I'm wondering when the lonely bottom incisor well get added into the wire. I guess the others have to straighten out first.