No, I'm not talking about sharing chicken. (snicker)
My name is Laurie and these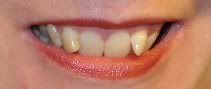 are my teeth.
These

are my teeth too.
Yes, I have been called a vampire. Yes, I've busted the tip of one of those fangs on playground equipment. And Yes, I've been popped in the mouth before and had them cause a good bit of damage to the inside of my lip. Funny enough is the fact that when I bite into things my teeth leave a "Batman" like mark on things. Fitting eh? I should get a picture of that too.
So, at the splendid age of 32 I'm getting braces. I'm happy to say that my husband of 12 years is totally behind me in my decision and he's *almost* as happy about it as I am.
This past Wednesday I had my spacers put in.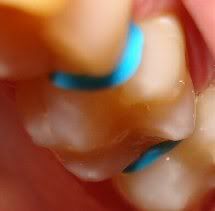 Lovely little things, aren't they? I feel a little like the Princess and the Pea. These tiny things causing so much discomfort. But honestly they aren't that bad. Just a bit annoying (like my children... wait.... I'm not supposed to admit that am I?). I did have one bust the very next day and had to go back in to get a new one. Man it was really sore to have it replaced. But alas I lived.
I'm getting metal braces and I'm still not decided on what color ligs to get. I don't eat curry as there is no place TO eat curry where I live. I do enjoy coffee and soda though. I know it's miserable on the teeth but a girl's got to have her vices.
I'm going to try to get some good photos of my uppers and lowers to post. I've taken many but I just can't seem to get it right. I think taking photos of your own teeth should be classified as an art.