So...I posted this already in another forum, but I thought that I would move them over here, and continue the rest of my story in this thread.
Posted 04/24/2008
So, tomorrow I get braces and will have them for approx. 8 months! I'm actually rather excited and a tiny bit nervous too. Mainly just nervous about how I'll look, the pain, and adjusting to braces.
I've been trying to get braces since I was 10 or so, but at that point they wouldn't do braces because all of my baby teeth hadn't fallen out yet. Then in high school I attempt to get braces, but my mom refused to pay for them. So now that I'm 23 and my insurance will pay all but $1500 of the cost of braces I am finally getting them! After much debate, I decided to go with ceramic ones just so they'll be less noticable.
Here is a picture of my teeth currently. They're really not too bad, I just sucked my thumb till I was 12 years old so I have an overbite, my teeth are slightly too far to the right, and I have gaps between my teeth. My bottom teeth are also kinda crowded...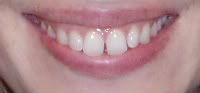 Posted: 04/27/2008
So, I got my braces on Thursday. Once I got there, they talked me into going with metal brackets due to being less bulky, and less painful to get taken off.
Also, I didn't have to get the bands that go around the back teeth, so the spacers they gave me were entriely unnecessary.
Luckily, my teeth aren't too sore. Can't really bite into anything with my front teeth, but I can chew with my back, so thats a plus.
My bottom lip is really swollen though, so thats the only thing that really sucks. And I have a customer facing job where I have to talk all day, so it keeps getting more irritated and swollen.

So anyways, one thing that has been bothering me lately is one of my teeth on top - the one immeadiately to my left of my two middle teeth (I dunno what that one is called, obviously), but the bracket is more towards the back side of my tooth instead of in the middle. This is causing the tooth to move further towards the back of my mouth and slowly its creeping behind the tooth its next to it so its not flush with my other teeth when I run my tooth along the back. Its really bothering me, and I'm pretty sure that I'm overreacting, and that the ortho can fix it. So, I don't know if its something to be concerned with and if I should contact my ortho (probably not) or if I should just wait until my first adjustment on June 3?