I'm 29 years old and I just started traditional braces in mid April, 2008, after extraction of 2 upper premolars. My teeth were actually pretty straight except for a big overjet (not sure about the measurement since my ortho didn't tell me) and possibly a small overbite. Shaving off the teeth (IPR) to do Invisalign would have only corrected my overjet by 50% at most. That was why I opted to do the traditional braces, and was sentenced for about 2 years (my ortho only told me the traditional braces treatment is on average 2 years, but never specify for my case, how long it will take). It has been tough for the first 2 months, and I really regretted to have chosen the harder route since I didn't realize there is so much pain involved. Oh well, now the teeth are gone, there is no way back, after struggling for 2 weeks trying to find out the possibility to switch back to Invisaglin, I decide to bite the bullet and try to get through this. And during this time, Meryaten, Chris1960, Blair, AngelofLife, Miss Chastity all helped me a lot!!!
For me, the hardest part is to have the extraction gaps. I had a root canal on my left lower molar, and 2 super big cavities on the 2 teeth in front and behind it (which are both on the verge of root canal and just hanging), so the whole left side was really sensitive to temperature, and I have been avoiding to chew on the left side for 2-3 years since I had those cavities. So now missing one premolar on the only side I can chew is really debilitating, and eating have been really big challenge for me ever since I got the extraction.
My first adjustment was supposed to be 4 weeks after my brace day, but I went in one week earlier due to a pain in my chewing side K9, which turned out to be ok and pretty normal. So my ortho changed my lig and let me go and wait for another 4 weeks for my 2nd Adjustment. During that time, My chewing side K9 kept hurting since it was biting right on top of the lower and received the highest pressure.
So on my 2nd adjustment, after unsuccessful begging to switch to Invisalign, I begged my ortho to maybe start to move that K9 back since it's hurting too much. The original plan was to align my front teeth first before starting to close my gaps, but for the past 7weeks, I really didn't see too much movement of my front teeth, probably because they are pretty tight to start with, plus, they were pretty straight except one middle top front one was crooked/twisted. That crooked one seems to be turning slowly, but so far I have only seen really subtle change in the relative position to the tooth next to it. So after looking at my teeth, my ortho put on short clear power chains over both gaps, and boy they hurt. The next 2 days was like hell since my molar was dragged and seemed to be tipping inward, so I could not bite down at all and biting down hurt! If I keep adding pressure to bite, the 2 top molars can seem to be pushed outward and the bite will close, but really painful. I panicked and asked Gennel, and she gave me tonst of tips on what's going to happen, what kind of pains are normal, what to expect... which really helped a lot in coping with the new unexpected pain! And amazingly, this morning (3rd day after getting power chain), when I woke up, I seem to be able to bite down a lot more, though not completely, but a LOT better! So I'm really thrilled about this since not being able to chew is the worst nightmare I've experience so far.
Ok, enough summary on what has been going on, here are some pictures
(Sorry about the large size of the pictures, I haven't figured out how to reduce them yet)
If just look from the front, it was not too bad at all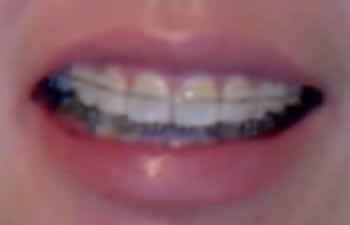 One month in braces, normal smile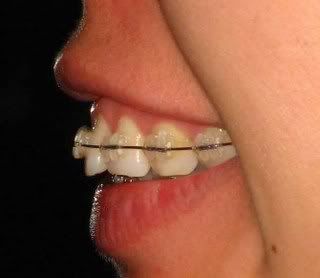 Top with 2 extractions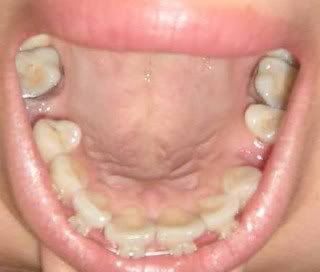 Happy laugh from side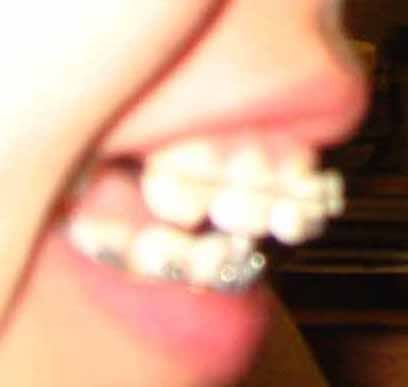 5 weeks normal smile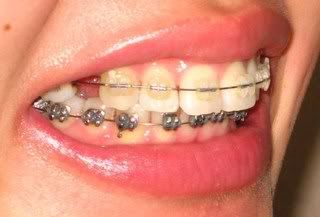 2nd adjustment powerchain, normal smile
2nd adjustment, other side, trying hard to show the gap and overjet