Week 3 and I've had to go back to the ortho AGAIN. It seems that I've ended up there every week, so sometimes I worry that I'm starting to be annoying. Managed to dislodge my wire from the tube on my molar bands over the weekend. It was poking me and super irritating, so I tried to get it back in myself before I gave up and called them first thing Monday. Funny thing is that when the assistant first looked at it, she was like "what do you mean it came out? It's in, just bent" so it looks like I did manage to get it back in myself. Problem was that when she first got it back in properly, I was biting down on the end of the wire and I found it super irritating. My ortho came over to join the party and ended up coming over to help, and he ended up just cutting it off at the first molar (I have a band on the first molar and the wisdom tooth, and the second molar there is broken and being extracting next week), since the whole thing is getting replaced next week at my adjustment anyway.
I also had poky wires on top so they were able to clip those off for me. They were getting super irritating, and I was using wax on them but it didn't cover it completely.
He also told the assistant to switch out some of my rubber ties on my rotated teeth and retie them as figure 8s. so my teeth have been feeling super tight and slightly sore again, grr.
Still seeing movement, mostly on my uppers. My central incisors are almost straight now! The right one was super sore all weekend, so I figured it had been moving - was sore enough that I had to take a few Advils. Noticing gaps at the gumline everywhere, which I'm not thrilled about, but figured it's a sign that the teeth are moving and that it will be dealt with at some point...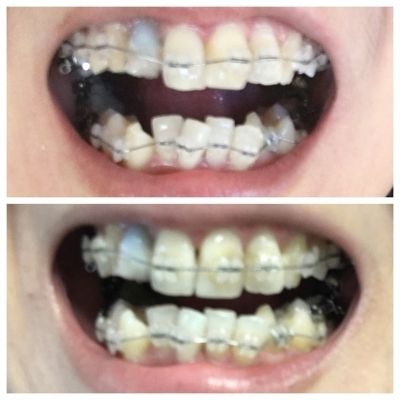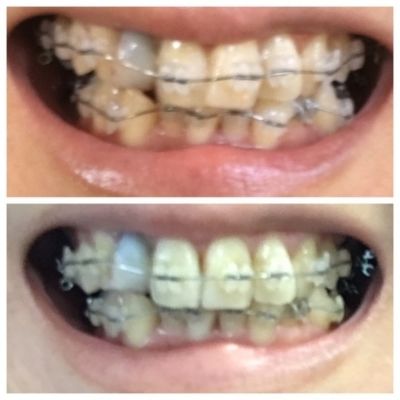 Day 1 vs. today. Not noticing much movement on my lower teeth, but looking at these pictures, I can see a tiny bit of movement, and the wire looks slightly straighter...
Extractions and my first adjustment on Monday, eeeeek. Will update afterwards.