I always did tell my English Comp professor that titles were the bane of my existence. Now I'm going to have to live with the above for the next 18-24 months.
I'm just going to free-form this, so if it's disjointed or smacks of TLDR (too long, didn't read), I apologise in advance.
I've probably always needed braces, but I was a very strong-willed teen and when it was (briefly) mentioned I told my mom flat-out that I was NOT getting braces and she never pushed the issue. Right about now I feel like holding a seance to ball her out for that, but what's done is done. I have a decent size overjet (all my life I called it an overbite until my ortho consult when he called it an 'overjet') and my bottom teeth are reminiscent of Lombard St. (Pictures posted mainly for posterity/comparison at end of post for those that want to skip right to the end)
I am extremely dental phobic and I'll go a couple years in between visits because something traumatic (to me) will happen and I'll be afraid to go back again. My friend had been bugging me at the beginning of the year to go to the dentist, so I finally got a recommendation and saw a new guy. This guy caters to babies like me and I love him. When he did the initial x-rays and exam I had (what seemed like) cavities in every tooth. We set up a treatment plan and he asked me if I'd ever thought about braces.
I had, and dentists over the years had asked me that same question, but when I told them I wasn't vain enough to spend thousands of dollars on 'cosmetics' they didn't bring it up again. My current dentist, however, told me that he wasn't suggesting it because of that, but because by having my teeth aligned and sh... stuff (sorry, I have to curb my natural tendency to curse) would actually prevent me from getting cavities. Now I brush twice a day and floss three to four times a day, but apparently, even that doesn't really do any good if your teeth are out of whack. Who knew?!
I'm a very determined individual when I set my mind to something and once I was told that I decided I was getting braces. I got all my cavities filled over the course of several months, got a crown that I'd been needing for over five years, and had a consult with a wonderful orthodontist. This orthodontist said that because I have an extremely small palette (believe me, it's the first and only time anyone ever accused me of not having a big mouth
) I would need extractions to make room for the other teeth to go where they needed to go. Four teeth would have to come out: first bicuspids on the top, second bicuspids on the bottom. I got my evaluation packet, treatment plan, and referral for the oral surgeon.
I decided to get all the regular dental stuff done first. I had my extractions done on 8/5. This was not a happy day. It felt wrong to pull four perfectly good teeth out of my head, but I did it. Since then, however, I've been having a severe case of "What the hell have I done and why did I do it?!" I think I cried Friday evening when I saw the way my mouth looked with all those missing teeth. And I've been lisping like crazy whenever I talk. I didn't eat solid food for almost a week and even now I can't eat anything too hard. I know that's not going to get better with the braces either.
I am scheduled to get my braces on next Friday. I wanted to take 2 weeks after the extractions to heal a bit before I put my mouth through more trauma. My ortho said that some people have the extractions and get braced in the same day! I'm not nearly that much of a masochist. Sorry, but no.
I am getting the Innovation-C self-ligating ceramics. My orthodontist loves Invisilign, but says I'm not a candidate because of the extractions. Apparently he doesn't feel they do well in closing gaps, so Innovation-C it is. I was good with that until I saw that coloured lig thread and realised I wouldn't be able to have any fun! I called the office and they said they keep coloured ligs around for the kids (HA!) and that I should just ask each time if I can have them and they'll put them on for me. Sometimes I won't be able to because of friction or something (I don't remember). I was very glad about that because I figure the colours is the only fun I am going to have. I am expected to be in braces for 18-24 months, power chains at some point, and elastics towards the end. He wants me to have a bonded retainer on the bottom, and essix retainers top and bottom 24/7 for about six months and then nightly for the rest of my life.
I have purchased a Water Pik and am contemplating a Sonic care toothbrush. I'm not looking forward to spending so much time brushing my teeth several times a day, but I suppose I can't go without food for that long. Hopefully I can get the routine down quickly and be able to do in 15 minutes total, instead of 15 minutes for each step.
I'm really nervous about the bracing next week and because I'm a worrier - I'm worried already about the debracing!! Help!!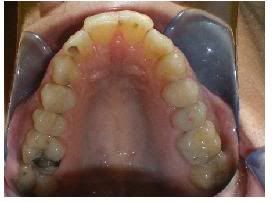 Top teeth. Ignore the cavities, then since been filled.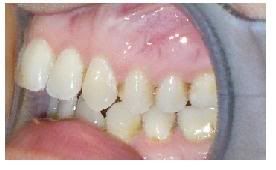 Right View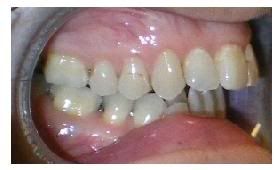 Left View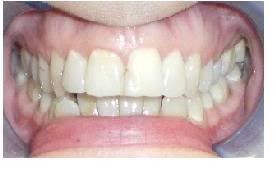 Front View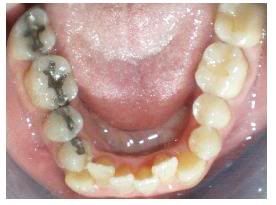 Bottom Teeth