Moderator: bbsadmin
Posts: 690
Joined: Thu Nov 04, 2010 10:26 am
Wow, that's awesome! Looks great!!!
I can't believe it.. only 8mths?!?!
---
They look AMAZING!! I can't believe your braces were only on for 8 months, you're so lucky!! Pictures like yours help me see the light at the end of the tunnel, I'd be thrilled if my teeth end up looking like yours!
---
They look amazing! I'm not going to lie I am definitely jealous-I got mine on about a month after you and no end in sight just yet. Lucky you to have such amazing movement in such a short amount of time:)
---
Posts: 144
Joined: Mon Sep 06, 2010 1:36 pm
Thanks, everyone - I do consider myself lucky, considering my original estimate was 15-20 months. And it's really weird, but I have permanent retainers, which they applied before they removed the braces, so I still *feel* like I have braces. My teeth still feel some pressure, and they're a little bit sore. It will probably take a little while to get used to them. And I have a big lisp, which I'm hoping goes away in the next couple of days!
---
Wow you look much younger than 40, great smile!
---
Posts: 49
Joined: Sun Apr 24, 2011 7:30 pm
They look great! Congrats! Can't wait till it's me!
Nikki
26 years old Braced April 2011

http://26yr-old-mommy-n-braces.blogspot.com/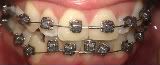 ---