Hi all! I meant to actually begin posting on here when I had my braces put on, but alas, that did not happen! I still wanted to share my experience here though, mostly because I do follow so many of yours and I felt I should pay it forward.

My damon braces were placed on September 14, 2009. During my first consultation, my orthodontist told me she was anticipating an 18-24 month treatment time. My teeth have moved quickly though so I'm hoping to have a shorter time than anticipated. Only time will tell!

Here are my "before" pics of my teeth taken a couple weeks before my braces were placed. Excuse how gross my teeth look in these pics. I drink a lot of tea and I have deep grooves in my teeth that always look dark (even after my cleanings). Also, I'm sorry that these pics are so huge. I've resized them, but it doesn't seem to be showing in the correct size once I post them here. Oy.





Top



Bottom



I had a lot of crowding and that high canine has always bothered me. Unfortunately, I don't really have any pics of my teeth just after the braces were placed. In fact, it's only recently that I've felt comfortable smiling fully with the braces. Partly because my mouth was very often irritated because my teeth have moved so fast and partly just from being self-conscious. Lately though, I just don't even care if people notice my braces. I'm so glad I made this decision and the feedback I've had from others has been nothing but positive and supportive. My teeth have moved so much (see pics below) from where they were before and the braces seem much less noticeable once your teeth are straighter and the wires aren't going off in crazy weird directions!

Early on, both my dentist and my orthodontist told me that my wisdom teeth just had to go, but the ortho wanted to wait and see if other extractions were necessary before I had the wisdom teeth removed. At my third adjustment, my orthodontist informed me that she felt extractions would be necessary. In March, I had all four of my wisdom teeth removed as well as all four of my premolars -- 8 teeth total. Recovery was long and painful. It was definitely the worst part of this whole process. The painkillers prescribed made me violently ill so I could only really take OTC stuff and I had a lot of swelling to boot. The oral surgeon said I have very strong teeth and even warned that the swelling might take several days to go down. Sure enough, I had chipmunk cheeks for four days before the swelling started to go down and I didn't look "normal" again until about a week. Thankfully I was able to take time off of work and school to recover completely. Having spaces in my mouth really bothered me for awhile. It felt slimy and gummy and gross. I've since gotten used to those spaces though and now that there is more room in my mouth, my teeth are quickly falling in line!

At my adjustment about 6 weeks ago, the orthodontist re-placed almost all of my brackets so that she can get the roots in the right place. It was a pretty long appointment but the greatest part of this adjustment was going up to floss when most of my brackets were taken off (before they put the new ones on) and seeing my teeth. I wish I had taken a picture! They weren't completely straight and I did still have a few brackets on here and there, but the teeth without brackets looked so big! I just know that I'm going to be so excited when my braces come off for real. They're going to look great!

Here are pics of my teeth now just one week shy of the 9 month mark:




Top (w/extraction gaps)



Bottom (w/extraction gaps)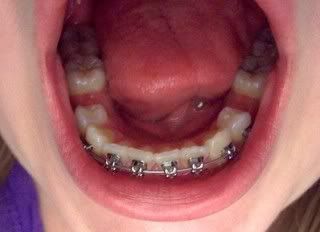 Isn't that amazing progress?!

Overall, this has been a positive experience for me. The extractions were the worst part, but then again, I had eight teeth pulled all at once, so needing time to recover is pretty much to be expected.

For those of you who are considering braces but are unsure about actually going through with it, my advice is this: just DO it. You'll always have a thousand excuses why not to do it, but the fact that it's a real consideration probably means that it is something that you truly do want for yourself. Like most things in life, diving forward and getting braces is a big change, but it's a change that will give you more confidence than you can imagine. If I can smile a big smile with these braces on, imagine how confident I will be when they come off! If you're worried about other people's reactions, I guarantee they will surprise you in positive ways. I was most nervous about how other people would treat me once the braces were on and I've been continually surprised by how kind and supportive others are. In some cases, people just don't notice and those that do notice are often the ones who really open up to you about their own experiences with braces (or of someone they are close to). If you're worried about the discomfort, you really do adjust to the braces. They become a part of you in a way and even if you do end up with your mouth cut up a bit because your teeth move or you do have some soreness after your adjustments, that small bit of discomfort is so tiny in comparison the progress you are going to see along the way.

Naturally, I'm looking forward to the day the braces come off and I get to see my teeth completely bare, but until then, I'm so glad I made this decision! No regrets whatsoever.