Hello everybody,
On discovering ArchWired:
Can I just say I'm grateful to have stumbled across this forum? I'm not a person who keeps a regular online journal (or any journal for that matter) because I tend to be cynical when I blog but for the sake of my orthodontic progress I plan to keep one AND won't be cynical
. I hope I'll be able to keep it up, through this site.
The history
:
I know I needed one since high school, seeing a couple of my friends got them but it was a luxury my parents couldn't really afford at that time. I realized I could get them for little money at the government hospital but I was a bit hesitant because the government health workers here were (and still are) not known for their gentle touch. Having had rough dental treatments from the government clinics in elementary school made me shy away from the free dentists. (well, maybe from all dentists all-together). But I try to keep my teeth clean by regular brushing and flossing, and seeing the dentists for scaling or cleaning a few times over the years.
The ugly truth:
Well, first things first. Lets meet my pre-braced teeth:
Here they are:
And here they are again: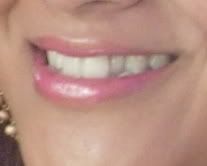 The before pictures are of low quality since my teeth didn't really have modeling chances in front of the camera. I'd either do this: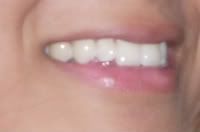 or this:
I've gotten so used of hiding my crooked teeth in front of the camera that it's autonomous now. I've also been quite embarrassed to throw my head back and laugh, for the obvious reason. (I do like to laugh). So in every picture of mine I looked controlled and posed. It's really quite sad.
Fast-forward to the years after I came back home from years abroad I began to reminisce my teenage years before I left home for 5 years. Looking at old photographs, I began to realize that my lateral incisor had been sneaky! It moved deeper towards the back of the mouth over the years without I realizing it! I noticed it wasn't as inward in the old teenage photographs. Can you believe the nerve of the tooth?
The turning point
I finally went to an orthodontist last February to seek solace. And boy did I get some. Here's the list of the problems that have been lurking according to the dentist:
1) Anterior cross-bite (the upper lateral incisor)
2) A few other cross-bites at the bottom
3) Crowding at the bottom front.
4) Bites that are off at the back because of cross-bites.
Seeing another person in my office have braces made me realize that it's never too late for me to get my teeth corrected. I never saw any other adults with braces, though.
We scheduled an appointment to have braces on my upper teeth fitted. So on February 19th 2009, I became a 25-year-old woman with braces. Once at home, I promptly took out the camera. Meet my newly-built roller-coaster ride: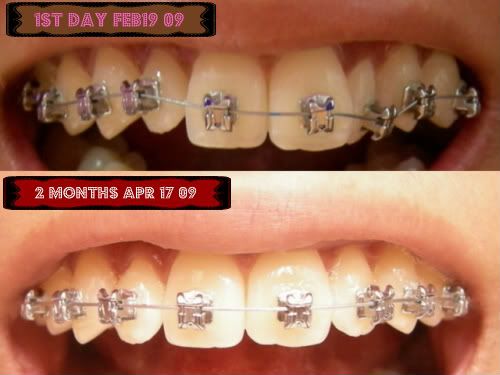 Whoops, major spoiler! This is supposed to be a progress report. But you can see my tremendous progress there. It took less than 2 months for the incisor to rise up to where it belongs but the whole row are far from perfect still.
The forgotten
I do not have a picture of the mess I call 'my bottom teeth' yet, they are not exactly photo shoot ready. It's largely because we haven't started working on them yet. So I'll write about them when they worth talking about.
Wowza, there is a thing called dental technology?
:
I never realized there were more than one type of braces to choose from - only the varying rubber band colors. I asked the dentist for an orthodontic treatment that is fast, easier to manage, within my price range and most importantly induces the least pain for me. I'm not as tough as you ladies and gentlemen out there, dentally speaking, my pain threshold is very low. Tooth extractions? Can you just kill me please? You can just use the rinsing cup. Just smother me with it, it will do the job. I hate pain in my mouth so much I want an anesthesia for the anesthesia itself. The doctor suggested the self-ligating Damon braces, Damon3MX to be exact, as they use the biggest force of all Damons. They are not the supermodel of braces, aesthetically speaking, but they sure are fast workers. And most importantly, in my case with Damon, he doesn't have to extract any tooth. Phew.. can I say hooray? *still hoping there won't be any healthy teeth extractions in the future*