Hello!
My name is River and I am an old, old 21 years old. Well, old to be getting braces for the first time. Nowadays, it's common now for people in their 30s, 40s, and 50s to be getting braces for the second time, but for someone with my type of crowding?? Getting braces for the first time? At every ortho consult I've had (many) doctors have been absolutely aghast at why I would wait so long to get braces.
Well it's kind of a sob story. I was born into a family built like an avalanche, and have been on my own since I was 16. Only recently did I manage to find the funds for braces, so here I am, with my big, crooked, hot pink grill. Gotta love a good comeback story.
Behold my vampire fangs:
Before:
After: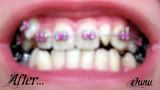 That is, after the extraction of 4 wisdom teeth, both upper first premolars, the lower left first premolar and lower right second premolar. Insert a lower lingual holding arch and some kind of similar appliance on the roof of my mouth, and voila, we were ready for braces! I finally got them on... August 22. That's two days ago, and they're feelin' fine!
I get my lowers on at my next adjustment. How exciting!