I have been 'lurking' for a few months and decided to join in the fray. Your stories are inspirational and so helpful - keep it up! So here it goes:
Rewind about 20 years to me sitting in the dentist's chair with my Mom by my side. He asks her if she's ever thought of taking me to see an ortho. My Mom is dumbfounded and she tells him my teeth are perfect. I am crushed.
All of my friends had braces and I wanted them too. This is embarassing but I even tried to make retainers out of wax candy when I got home. But alas, no braces for me.
Fast forward to a few months ago, I'm in the dentist's chair again, and she asks if I've ever seen an ortho. My eyes light up
and I tell her no. She said the crowding in my lower incisors is causing some gum inflamation and that because these teeth have been pushed up, the tops of them are wearing off from rubbing on my upper incisors. She went on to say that most of my molars are tipping ligually which could be causing a problem with my bite and would likely result in my molars wearing abnormally as well. This may sound strange, but I could barely contain my excitement as she wrote down a referral.
I tell my husband the exciting news when I get home and he is
not
thrilled. All he can see is $$$. Also, my teeth aren't that bad so he is skeptical of my need for braces. Regardless, he is mostly supportive. I call my Mom to tell her what happened and she actually gets mad. She tells me my teeth are perfect, the dentist is in cahoots with the ortho and it is a complete waste of money. I can't figure out why she isn't supportive but it doesn't matter now anyways since she's not paying for it.
I go to my first consult and he concurs with my dentist. Ortho #1 does the SureSmile system which will have me out of braces in 8 months at a cost of $5400.
I'm a bit skeptical of the SureSmile system so I call Dr. B, a dentist who is good friends with my hubby. He looked over the info I emailed him and he is not on board with the system. Maybe he is just old fashioned - in any case he tell my hubby that ortho #1 is no good and refers me to ortho #2 who treats his patients and family.
I go to see ortho #2 who concurs with my dentist and ortho #1. He also mentions that my right jaw is popping in and out which may have something to do with my recent headaches. Dr. R sentences me to 24 months at $5800. I tell him I'm on board, I just have to wait until my hubby's flex spending money is available in July.
So here I sit, anxiously awaiting brace day - it has been 20 years in the making and I can hardly stand it any longer! Here are some pics: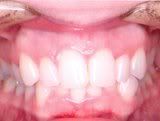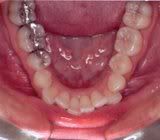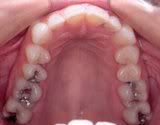 4 Spacers go in July 3rd, 2008
Ceramic uppers and metals lowers go on July 11th, 2008
Sentenced for 24 months