Braced32:
Ok, it's now Wednesday....how'd the uppers go? Haha...positive pink posts. That WOULD be tricky to say five times fast. I'm heading over to your journal to give you a "push" to post about getting your uppers on
!
braces4astw22:
Hi, fellow Canadian! How's the US treatin' ya? Thanks for the wonderful comments! Yes, I'm very happy with the changes:)
Boots:
Haha! Yes, I guess it kind of does! Although, I havent' had girl guide cookies in ages....yum!
Well, today is 3 months since my upper braces went on. I'm not as excited as I anticipated I'd be at the 3 month mark, but mostly because of my front teeth still overlapping(in case anyone didn't read in my earlier posts, my two front teeth were always straight
). I'm happy with the rounding of my arch and my wandering molar is almost where it should be. I'm just anxious for it all to be sorted out. Anyhoo, here are some pics:
Day 1: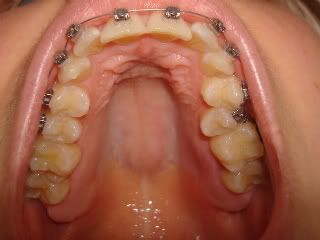 Today: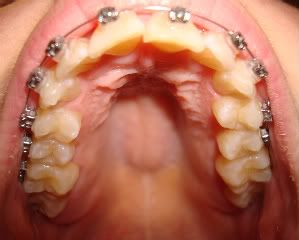 Enjoy!!