Hi Everyone,
My name is Darrin, I'll be 30 in March, 2008. I have never been happy with my teeth and I have always "secretly" wanted braces. I have always been ashamed of my smile and hid my teeth everytime. I figured it wasn't worth that time or money for a perfect smile. Then the TMJ problems started.
It was mid June and I developed what I call my "tired" jaw. It was if I had been talking all day and my jaw was tired at the end of it. It was never in the mornings, but always in the evenings. It progressed until my temples hurt everday, I had intense pressure in my ears, and I had severe headaches. I would have to come home from work and go to bed most times, just to get rid of them. I finally went to my Medical Doctor, he first touched on a problem with my TMJ problems and prescribed a steroid. Well that was the wrong thing to do because within a week I could only open my jaw about a 1/2 inch. Somehow it had just made it worse. I had to heat my jaws on a off for about a week before I could open it fully again. I then turned to my dentist who referred me to my orthodontist.
BITE PLATE:
She made me a bite plate that I wore 24/7, It was a removable acrylic device that I wore all the time except when I ate. Within 48 hours I felt HEALED. I didn't have the pain anymore. To make a long story short: with further treatment from the ortho she advised, that the only way to fix the problem was braces....... Its a rather long story, so I'll just get to the pics.
Pre-Braces.
SPACERS: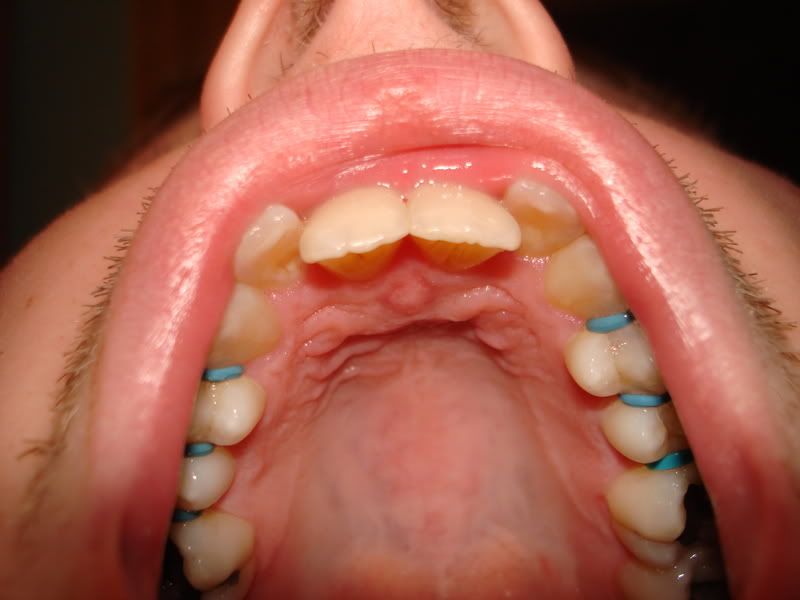 Oh, I almost forgot. I'm wearing an expander.... It's a _______, *well fill in the blank*. It took some getting used to. This is a non-surgical palate expander for an adult. I haven't found anyone that actually wears this device on this site, but I have seen plenty of before and after pictures from my ortho and you can see them on this PDF
http://www.dynaflex.com/pdf/Series2000-2008.pdf
I can't tell you the technical terms, but it's supposed to expand the bone by creating a slow and constant pressure on the bone. See there are no screws to turn. There are 4 titanium springs that slowly expand and unscrew the screws, thereby slowly opening the expander and keeping it there. It stretches the bone and new bone "weaves" (fills) in the gaps. (yes very technical).
here is a pic of the expander.
My next post will be a progress report. I've actually been in the braces/expander for three weeks already, but this post is long enough as it is.