I figured I should start documenting my progress, so when I feel like nothing is changing, I can look back and prove myself wrong.
I'm 2 weeks into my adventure. I've had all four impacted wisdom teeth removed surgically, as well as four other extractions 2 weeks before brace day to make room for movement. I chose to have ceramic uppers, and metal lowers, and so far I have been thrilled with my choice. I do think that when I get my first adjustment I'm going to ask to have bright blue ligs put on the bottom. Right now they're just clear. I don't want colors on the top, I work in advertising for a real estate company, so I need to look somewhat professional. But, I'm also not about to deprive myself of the fun of colored ligs!!
I'll start with the photos, which I have to admit, are quite hard for me to post. I've gone so long hiding my teeth, and I had a hard time finding a "before" photo. But, I trust you guys not to poke fun, after all, they're on their way to being fixed!!
So, here they are. My "befores" and pics from today. Those aren't the greatest either. I can't tell if it's the lighting, or if I need the camera on a higher setting.
I have an appointment on Friday with the ortho, and something tells me he's going to do an adjustment. (Mainly it's the lady who I work with who used to work in his office - she's my go-to lady when I have questions at work!) I'll post an update then!!
BEFORE:
TWO WEEKS IN BRACES: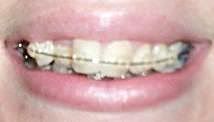 *Upper Jaw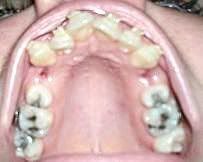 *Lower Jaw