I know that my story is not that exciting as others here on the message board. After all I have no before pictures so that everyone can really see what my former problems were and to really show how my teeth have progressed. But I am going to share my progress anyway since I can vent to other people that directy relate to me as opposed to talking with my non-braced husband and my not very interested but also braced 13 yr old daughter.
I had an adjustment today and I discussed the concern that I am still having with my left lateral incisor. I feel like I am biting on it and it gets to a point where my bottom canine will start hurting. My ortho told me that I am supposed to "bite" on that tooth so I told him if that is what is supposed to happen then so be it. He told me that he would back off of that tooth since I am feeling discomfort. Well anyway on to the good stuff that was done to me.
* My archwire was taken out and the assistant put a steel/wire (??) PC in a figure eight configuration from my left bicuspid to my right central incisor
* Another figure eight PC from my right molar to my right canine
* Rotation wedge was removed from my right lateral incisor as the ortho said it rotated a tad bit too much
*The archwire was reapplied and I chose colored ligs for the first time since having braces. Light pink and light blue!
The assistant was surprised of my lig colors as I always choose black or silver. I told her that I am not in the Army anymore so I can at least have some fun this time!
On September 10th I will have my Nance appliance removed and impressions will finally be taken for my Hawley retainer. I will also have a bonded retainer only on my centrals to ensure that my original gap does not return. Then two weeks later I will be debanded! I am so happy! I plan to get a copy of my before pics so that I can share them with you all. Okay here are the pics:
Frontal (I left it the original size so that you can see the pink/blue ligs)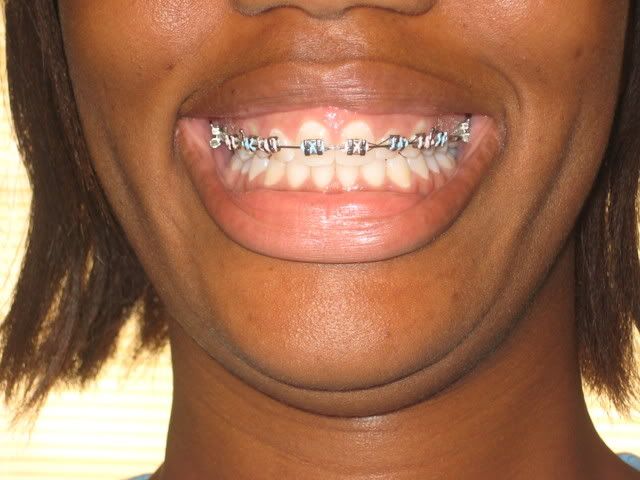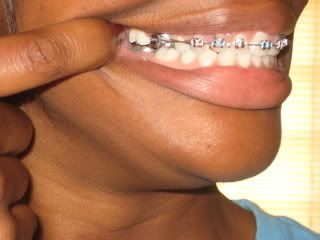 Left/Right sides
I hope those are clear. Well more in three weeks!