Hey everyone!
I decided I should start a little journal type thing so I can look back on my progress and get excited about my future smile!
I'm 20 years old and I am getting married October 13, 2007. I've always hated my teeth, but both me and my sister needed braces in high school, and she needed them much more than me so she really needed to go first! Now that I'm on my own I finally have the means to give myself my braces treatment as a wedding gift!
I was absolutely TERRIFIED to go through this. I hated the thought of having braces, and put it off for a very long time. I decided after seeing a picture of myself that it was time to change. I also decided to get braces because my dad has gone through 2 grueling years of having to get implants due to the health of his teeth. I didn't want to have to go through this myself when I got older.
So I went to a few different dentists, orthodontists etc. and found the guy I'd been looking for. He said he could get me to where I wanted to be by the wedding, if I was willing to endure a few months of pain
He's planning on taking them off in late september and giving me temporary vaneers (if needed) for the wedding. Then we will address what else needs to be done after the wedding. He said he'll work with me, but he said he will push to put the bottom braces back on due to my bite. I'm pushing for invisalign on my tops
But it won't be the end of the world if he has to put them all back on.
I bit the bullet and got braces on June 4. I'm not going to lie, I FREAKED out when I first saw myself in a mirror. But after a few calming words from my family and fiance, I felt better. I took some Tylenol and went to bed. The next morning I felt 10 times better, and in this week of having braces each day has been better and better.
It's amazing to me to watch not only my teeth transform, but to watch my entire self transform too. I've never had so much confidence in my life, knowing that I am improving something I don't like about myself. No one notices, my soon to be mother-in-law didn't see them at all when I sat by the pool with her all day on Saturday! This has inspired me to do so many other things before the wedding. I've finally addressed that I'm 20lbs over weight, and am well on my way to getting healthier-I've lost 8 lbs!!
I am so happy I did this, and I don't have an ounce of regret about anything. I can't wait to see the results and smile so big on my wedding day!
Here are a few before pictures: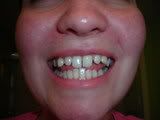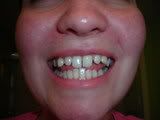 My permanent K9's did not come in properly and did not push the baby K9's out so they grew in behind--I've been like this since I was 16 years old! I have a class III bite, but my ortho says my jaw looks really good and thinks we won't have a problem at all correcting this without surgery! My midline is also terribly off.
Here are a few pictures from the day I got my braces on!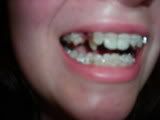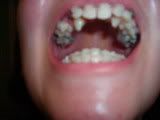 And here is today, offically one week in braces and I couldn't feel better!
I do not bite down at ALL like I used to, this has been the biggest change I have felt.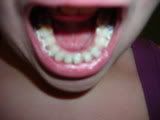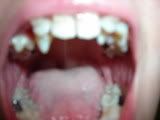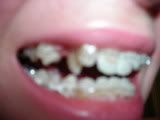 Could just me my imagination, but the permanent K9 feels like it has moved forward a bit on its own...maybe because it doesn't have the pressure from the baby tooth keeping it back there anymore?
can't wait to get that other baby tooth out!
I'm so looking forward to posting more pictures here and sharing my journey. Hopefully there's someone out there reading this that will decide to do something positive about their smile! Thanks everyone for reading! Here's to good movement!!