Hi all,
I've been posting here and there on the Metal mouth forum, but I thought I'd start a real diary of my journey in braces.
I've hated my teeth for as long as I can remember. I sucked my thumb up until the age of 18, which resulted in a very hig palate. My teeth were mildly crooked and yellowish, plus they were somewhat like a rollercoaster. And my two upper incisors were overlapping each other more and more. Often times, my dentist would tell me I should get orthodontic treatment, but to me that was out of the question.
Fast forward to 2006. I was now in my late forties, I moved to a new life in another city. My teeth were bothering me more and more, so I decided to look for a cosmetic change such as porcelain veneers and stuff. For the first time in my life, I tried to study my teeth in detail. I learned a lot, and found out that one of the reasons I didn't like my teeth is that I have a gummy smile (showing too much gum when smiling). What a relief to finally be able to tell what it was that bothered me so much ! I had consultations with three different dentists and an orthodontist. I liked the last dentist very much. He is a star in cosmetic dentistry around here, but he warned me that veneers were going to cost a lot and be very high maintenance in my case. To make a long story short, he recommended me to see the ortho who cared for his own children. And voilà !
My diagnosis (mostly guesswork because my ortho didn't give me a real treatment plan, or if he did, I didn't know enough at the time to remember it all clearly):
My bite is class 2 division 2
Mild crowding on the upper and lower arch
Missing several teeth (all 6' except the 16)
Narrow V-shaped arches
Gummy smile
I've been braced since end of June 2006, for an expected time of 2 years, possibly more. Damon 3MX (all metal) on upper and lower teeth. Not very nice-looking, but my ortho got fed-up with the previous generation of Damon braces (half-clear half-metal) that broke all the time.
Here is the rundown:
- 20 June 2006 : brackets on uppers, .014 Niti archwire.
- 27 June 2006 : brackets on lowers, .014 Niti archwire.
- 28 August 2006 : .016 stainless steel archwire on lowers.
- 5 Octobre 2006 : .016 Niti archwire on uppers + class 2 elastics that go from my lateral incisors to my second premolars on each side.
Now for the pictures :
Before braces: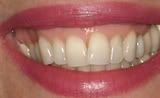 Smile 2 weeks / 4 months post-braces: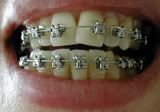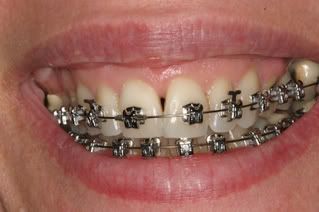 Upper arch 2 weeks / 4 months post-braces: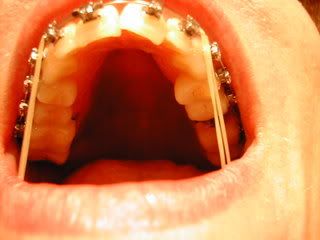 Lower arch 2 weeks / 4 months post-braces: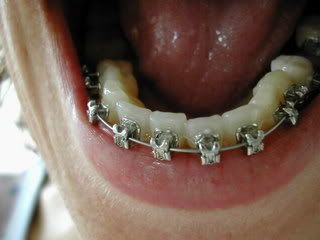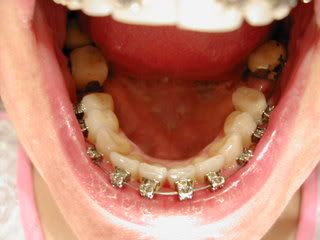 I am hoping to get rectangular archwires at my next adjustment.