Well, I thought that considering today was my B-Day (for my lowers), I'd start a brand new 'Finally Braced' thread.
So, now.. on to my day!
Before the orthodontist, I had a dentist appointment this morning. It was a new dentist (for me) and he actually has braces from the same Ortho! His wife has lower ones also and so do several of their staff. I had one filling re-done (my fillings are all about 10 years old and need to be re-done) in resin, and the start of a cavity done in resin also. Sometime in the next 3 weeks, I will be having 2 more done on my uppers. Sometime after braces, I will need a crown in the back. I'd also like to have any other fillings re-done in resin eventually also.. for cosmetic reasons and also for the sake of my poor teeth. All of my fillings are from when I was young and no one enforced mouth care. Hence why I hold my daughter down if I have to in order to brush her teeth! For some reason, they could NOT get me numb. I never had this problem before my wisdom teeth. They had to give me 5 shots.. and then they all decided to take at once.. so my entire HEAD was numb! I was there for three entire hours.. it was awful! I was numb all the way until my ortho appt, so I couldn't even divulge in any pre-ortho treatment goodies. Wahhh! Then, I had a cleaning.. which was interesting with a numb head, to say the least.
Then, on to the ortho this afternoon....
First, I had impressions done for my RPE. Non-eventful, except she shoved these huge bands onto my top molars (after removing my two spacers) for the impressions. The right side (where I am missing a molar) didn't hurt at all, but the left was KILLING me. I couldn't wait for her to take it out.. it was BAD. Somehow, they expect to use that band as the left one to hold my RPE in, and I just can't imagine how.. I couldn't even bite down with it in, and it felt like someone was killing me. The assistant said that in 2 weeks, I will go back to have more spacers put in (on the right upper, not sure why they didn't do them all at the same time. I was told last time that I didn't need them on the right.. but.. oh well..) and then a week from then for my RPE + upper braces (she said that I will have 6 upper.. because of where my RPE bands will be. That should be interesting..).
Anyway, on to the braces. They didn't hurt at all going on, but man.. that glue is definitely vile! Yuck! It is like the most tart candy ever, in a really BAD way! I have this compulsion to swallow whenever I am having work done and couldn't NOT swallow. So, that was nasty. I chose purple.. although I was really tempted to go no-color! I asked the assistant what color made teeth look the whitest. She told me that my teeth were already very white (uhm.. she may need her vision checked.. lol)... but she said that teal was very pretty. But, I chose purple for the sake of being girly. My front two teeth hit my brackets, so that isn't fun.. not sure why, because I don't really have an overbite.
Now.. how should I put this... PAIN is GOOD, right? Because I am in a heckuva lotta pain. I mean, a LOT. I have a very high pain tolerance, but this is BAD. It is this awful combination of pressure and tension. It's just BAD. I am not even sure what to do with myself. I definitely can't eat (dinner was chocolate pudding w/ a heart of whipped cream, compliments of my hubby).
The little hooks are being awful to my lower lip. I have used a ton of wax today, but it seems to wear so quickly... is there a better kind of wax? I will definitely try warm salt water rinses. (By the way, how do all of you get wax OFF? I used a pick but that took forever!) Also, are all of the brackets with hooks eventually supposed to have elastics? Please tell me no... lol.
My ortho wants me to brush with a fluoride paste after brushing and not rise it out.. I thought that was interesting.
Anyway! Here are some comparison pictures for the start of my 'journey'..
Mouth open (rarity)
Palate (I swear that my teeth are not this shade of yellow.. lol)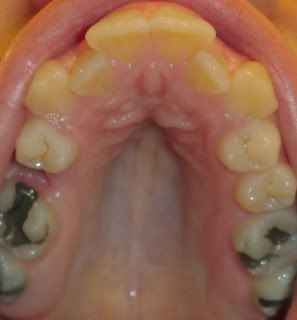 Lowers
Left Upper
Right Upper (note missing tooth)
Side View
On Brace Day
Lowers
Right Lowers
Left Lowers
Edited to add a bird's eye view shot (although I just took this, today- Day 3). Not sure if I notice any difference from my previous bird's eye view shot.. but I'm not expecting any yet either!
Before Brace Day:
Day 4 (On my mouth's right side, you can see a filling that I had done on my last molar. I also had the next one re-done, or so I thought.. but it seems like it was 'covered' in porcelain rather than re-done like the last one. Like, it still looks silver underneath, while the last one is gorgeous. Isn't that odd?)