I have been longing to write this post for a very. very long time
!
So yesterday and with telling absolutely no-one before, I became free again and I can not stop smiling since. I was very, very lucky and been in braces for under 10 months, when I was given a timeframe of 14-15 months. The result is not perfect but is good enough for me and my bite is very comfortable.
So I thought I would give here the before and after pictures as I never really bothered to continue the story I had started on my first day with braces, which had the ever-so-desperate title "My braces odyssey".
Anyway, some would probably say that I am crazy for entering this journey as I did not have a problem that was so obvious, others would say that I am crazy for staying like that all those years. When I was 12-13 years old, my dentist decided that there was a possibility of overcrowding and therefore extracted two teeth from my upper jaw and gave me a removable device that was supposed to bring the teeth into alignment. The device never worked, despite me wearing it religiously and by age 26 my smile looked like this:
Not quite obvious, right?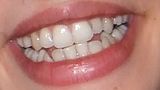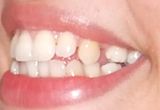 Nonetheless, I remained incredibly oblivious to the fact that I had two visible gaps in my mouth and that my lower teeth kept messing up due to the gaps. As you can presume, I had not problem whatsoever smiling and laughing with my mouth wide open
. My mother insisted to seek orthodontic advice ever since it became apparent that the dentist's device wouldn't work, but I did not care. Then last year, I realized that my bite was becoming extremely uncomfortable, mainly because of a tooth bending lower and lower inside my mouth, so much that I would scratched my tongue on it constantly and I realized I had to take the plunge before my bite worsened even more. And here I am now, with my brand new teeth, more comfortable than ever: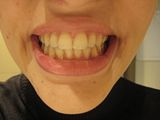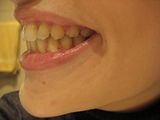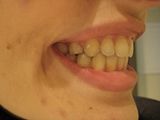 I can tell you one thing, if positivity was a factor for taking your braces off early I would have been sentenced to a life long sentence with my braces on
. Still, it would have been a lot easier for me if I just grew into the fact that I was wearing braces and did not spend my time thinking of everything I missed (mostly food
) because of them.
So that's a synopsis of my story. I hope it encourages others as much as others' stories encouraged me throughout the treatment, I have said this many times that this forum was a valuable source of comfort for me!