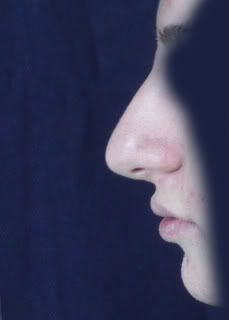 The first picture with dark blue background is the Before Surgery picture.
The secong picture with brown and multi-colored background is After Surgery, Day 6.
My son's surgery was on April 6, so today is Day 6. The surgery itself went well, and at first things were swollen so we were optimistic. But as the swelling is going down and reconfiguring, we aren't really seeing the change in the jaw we were expecting.
The procedure was BSSO with chin implant. The jaw was supposed to be brought forward, and a chin implant put in.
Am I worrying needlessly? Can anyone tell me if this is normal and things could change? To all of us here, except for puffy lips and cheeks, etc. we can't see much difference. We're getting a bit concerned, because this is a lot of money, pain, hassle, etc. if the end result is no difference!
I guess I am hoping that I am just being silly and there really is a change, and that maybe I'm just looking so hard that I'm missing something. My DS and DH both feel the same way. DS is starting to think he is going through all of this for nothing.