Power chains:
I just thought I'd show some pics of my teeth before my powerchains and after. It amazes me how they really work so quickly! Now, my reason for braces is mostly to fix an overjet and overbite which is actually a skeletal deformity, but to such a slight degree that braces alone will suffice. That being said, I've not had teeth to un-twist or gaps to close, or crowding to separate...until my bottom braces. Anyway, here are some pics!
April 20 (2 weeks after I got the bottoms put on):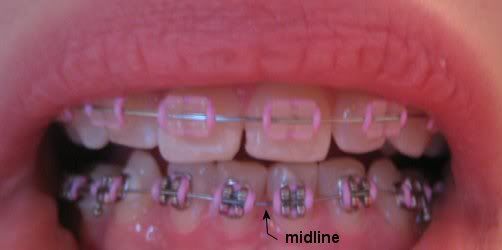 June 2 (2 weeks after I got the powerchains put on):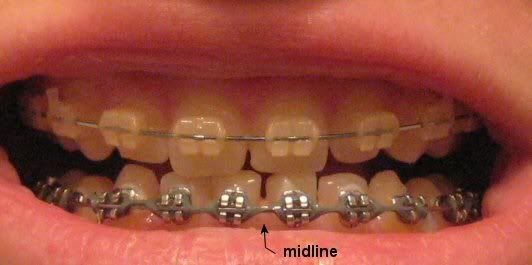 Braces off for wedding:
Originally, I was going to get my top brackets off on May 30 and then have them put back on on July 6. My ortho told me I wouldn't need a retainer because they'd be off for less than a week. Well, I got a call yesterday from her office saying that they're actually closed the week of July 6, so could I come in the FOLLOWING week to have my braces put back on!!! This means I'll have them off for my ENTIRE honeymoon! AND, I'll be having them off for about 2 weeks. YAAAY!!
I have to admit that I am a little nervous about this. I mean, this is 2 weeks that my top teeth won't be having work done on them, but right now we're focusing mostly on my bottoms anyway, so I guess it's okay. And, I've also heard that your teeth hurt at first when the braces are taken off, so that's a little unnerving. And, of course, this means I'll be wearing a retainer of some sort. (I'll ask for a bonded retainer, rather than an essix so I don't have to even THINK about it) But, anyway, I was very excited over this prospect! Of course, I still won't be able to eat things I'm not allowed to (such as corn on the cob *sob*) because I'll still be jailed on the bottom, but, it'll be interesting to see what it's like after so long of being in them!
Just wanted to share these 2 pieces of news with y'all. And, if anyone has had or does have a bonded retainer, does it irritate the inside of your mouth at all? How long does it take to adjust? Etc. I just KNOW I'll be one of those people who have to wax up the back of that thing like crazy if there's even A LITTLE irritation. :-\ My mouth is just SUPER, HYPER sensitive