Last month I had elastics on my left side to bring my bite closed more and not on my right side because it wasn't ready yet. The left side showed drastic improvement literally overnight, but that led to my teeth looking slanted since the left side was more closed than the right, like so: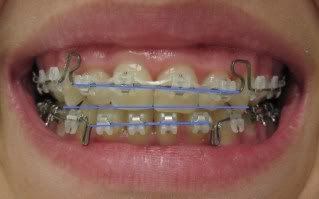 A week ago, I started wearing the elastics on my right side but they don't seem to be doing as well!! As I said, my left side changed drastically overnight so I was expecting the same for my right side and now I'm worried that the slant won't be gone for my debanding in 2 weeks! Here is the same pic as above just without the lines, which was taken last month and I'd like you to compare it to the final pic I am posting which I took today and please tell me if you think the slant is any better at all or the same or what. Thanks.
Last Month: Elastics only on left side to close bite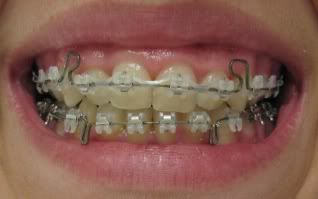 Today: 1 week into elastics on the right side to close bite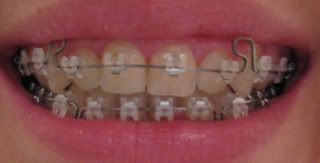 I am just getting paranoid because the slant really bothers me and I thought it would be gone within a few days. Also, my ortho did tell me that he is purposely making my front left tooth a little longer than the right one because it has some wear on the edge and he wants to file it down to make it even and when he files it down, it will become the same length of the front right tooth. But it seems like to do this, he had to make the teeth at the gumline uneven which isn't going to change when he files the front tooth and having the gumline uneven would make my face look lopsided I think. I'm just looking for a little advice I guess on how noticeable it is and if you would be worried about it. I still have 2 more weeks for the elastics to do a little more work on the right side but what are your thoughts?
Thanks for reading - I'm so glad I have this forum when stuff like this comes up