Hi all,
I'm from Singapore, a little country the size of an island under Malaysia in South-East Asia.
I am starting this thread to share with you my rare arrangement of teeth which I believe few would have. I require orthognathic surgery.
I've just started braces 4 months ago. I'm on Damon 2 braces, invented by the US orthodontist, Damon Dwight. Wish me luck
Those with rare arrangement of teeth like mine are welcome to post here with their photos.
BEFORE EXTRACTION
AFTER EXTRACTION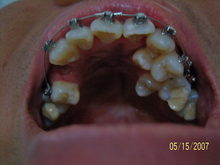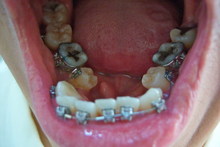 PLEASE CLICK ON PHOTOS TO SEE LARGER SIZE... THANKS!
I wanted to include a story about how my braces came about.. so here goes..
Hi all,
I am a 30 yr old guy. I have a cleft-lip palate since I was born....meaning my upper lip is stitched up (but very well, without scarring, done by my plastic surgeon) and my lower jaw is protruding out. As my family is not the rich type, I never thought of doing any orthodontics in the past and don't know anything abt jaw surgery as in the past, there was no internet and information not widely spread and readily available compared to now.
When i was in primary school, I like to talk a lot of make jokes and sometimes cross the line ... I remember classmate rebutted me saying I look like elephant man and kettlespout. It didn't mattered much to me back then.
WHen I was 16, I remembered my classmate saying something like I could be handsome but "ke xi" (meaning "a great pity")...I knew somehow he was referring to my cleft-lip... to be honest, I think I would look handsome cos I have boyish looks and I agree with him.... but alas..
As i entered late teens and early adulthood 18-21, I realised looks do matter as a measure of self confidence of how u appear to others... especially when I know I can't smile as normally as other people...
When I was 18 and jus before entering the mandatory National Service, I thought of doing orthodontics... my parents didn't mind but my brother advised me against it. During one of my visits to my aged plastic surgeon who repaired my cleft when I was a baby... he recommended a malaysian orthodontist... the orthodontist told me he was not confident in my case due to his lack of training in dealing with cleft cases, and suggested me seeking treatment in Singapore instead or jus abandon the thought altogether. So, I went to National Dental Center in my country and was put on a waiting list the length of 1 year (as I opted for subsidised charges)! 1 year was a long time to wait and the thought of doing orthodontics or watever eventually diminished from my mind.
Much later, I was looking in the mirror and the thought came about again...as I work in the education sector, I have to face young kids who readily make fun of my lower jaw... I think this op may benefit me in the long term but again there is the issue of time commmitment in hospitalization and curing.. and of cos pain of op and complications etc... but in the end I braced up!
I have hesitated for years since i went for my first consult at 18 due to $$ issues basically but even when i do get over it and decided to struggle to pay I wud be discouraged by the thought of looking weird with braces among schoolmates cos in the past, ppl with braces are considered "rich brats" in a way, since there's no health insurance scheme in my country. But now, I decided to do it cos I realise it affected my career and that appearance is an important factor of life esp when young, so I'll do whatever it takes to have a chance to see a normal look of myself in the future. With braces on, I felt a sense of joy in spite of the inconveniences and discomfort of the braces, anticipation of long treatment time and upcoming surgery. After all, the end result wud be better than what i started with.
I wonder if I wud be this happy if I had done braces earlier..