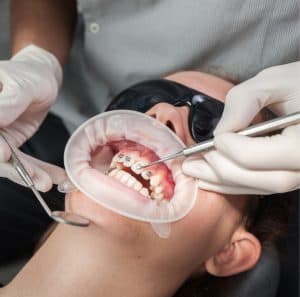 Banding (also sometimes called Bonding) is the process of attaching orthodontic Brackets or Bands to your teeth. Banding does not hurt and does not require any shots or topical medications to numb your mouth. It usually takes an Orthodontist about 30-45 minutes per Arch to attach your Braces. So, if you are getting braces put on all of your upper and lower teeth, the total procedure takes about an hour to an hour and a half from start to finish.
The usual procedure for Banding is:
A Cheek Retractor is put into your mouth to hold it open and fully expose the surfaces of your teeth.
You may be asked to wear special glasses or an eye shield to protect your eyes.
Your teeth are cleaned and a special conditioner is applied to them. The conditioner helps to prepare the teeth for the dental adhesive which will hold each Bracket or Band into place.
The Brackets are attached to your teeth with special adhesive which hardens quickly when exposed to a curing light. (The curing light is the reason why you wear the special glasses — you should not look at the curing light without protection). If you are not given special glasses, the Orthodontist may just ask you to close your eyes while the curing light is being used.
The Arch Wires are threaded through the Brackets.
If necessary, Elastic Ligatures or metal Tie Wires are placed on the Brackets to secure the Arch Wire.
Synonyms:
banding, bonding