So this morning, I finally went in for my first adjustment (it's been 2 months). It took 5 minutes and I was out of there. He put a thicker wire on the top and bottom, and then put 2 new powerchains on both arches. Stronger ones than last time. I know they work, but it also hurts a wee bit
Here are the photos below...
From the front, it appears to all be fine and dandy! No sign of spacing issues at all really! My powerchains go across the top 6 teeth, and the bottom 8 teeth. These grey chains are thicker than the one I had last time, and are in front of the wire, not behind. I wasn't given a choice of the colour, but I kind of like them
(stretched out it kind of looks clear-ish)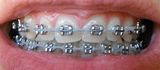 In this picture you can see the spacing between the lateral incisors and the canines (best angle I could get on it, sorry!)
In these next 2 pictures you can see the spaces I mentioned above. On the bottom there are still small spaces between the lateral incisors and the canines, and there is a big space between the canine and the first molar.
This picture is a bit dark, but you can see the space I'm talking about.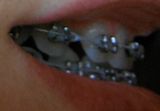 And this last picture shows how all this movement so far, has affected my bite.
Next time, I may be getting elastics to close the spaces, depending on how the top canines move.
He also showed me the mold to give me an idea of how far we've come (as if I of all people, might not have noticed
haha)
So that's about all I have to tell you all, any questions, feel free to ask