The day has finally come.. Prince William starts out his new life as a married fellow, and I start out my new marriage to these braces. (That's right.. I just compared my orthodontics to the royal wedding
) BUT since there aren't any news stations covering my new and exciting changes, I'll have to document them myself.
It was a very straight-forward procedure. I went back to the chair of doom, the dental assistant put the cheek separators in, and then she set me up for the ortho to place the brackets. (It didn't matter how much chapstick I slathered on before that appointment- Those cheek separators are the devil's handiwork!) The assistant put in spacers too. While doing so she said, "Holy crap. These teeth are tight!" She hammered away until they eventually went in. That was uncomfortable, but nothing hurt.
ACTUALLY
, one thing did hurt. Every time the ortho went around the top of the chair and leaned over my face to place certain brackets he would catch my hair between himself and the headrest. So I was trying to keep my head still for him while simultaneously fighting the pull of my hair in the opposite direction. I almost laughed right out loud a few times.
I took ibuprofren (for my scalp, apparently lol) before my appointment and have felt fine. Braces don't really feel as strange the second time around as I was expecting. So far (fingers crossed) nothing has been rubbing BUT I go back on Tuesday to get a nance placed so I will be complaining in no time
Oh! I got a little goody bag with a couple of proxy brushes, superfloss, wax, and a little travel case with a toothbrush, travel toothbrush, proxy brush, wax, and a dental mirror.. yay goodies!
I'm still getting used to taking pics of my mouth, but here's a blurry view of my spacers on the bottom. I have 4 on top also.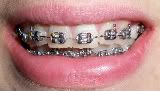 Tadaaaa! I got silver ligs for the first time. Once I get over myself I'll get some more interesting colors
The overjet.
I took some side views too, but my extraction gaps gross me out to look at so I'll post some of those when I can find a better angle.
Alright ladies and gents.. Looking forward to our next 24ish months together
-Kaleigh