I went in for an adjustment today. My top teeth were left alone because the wire on top is still "active" but my bottom teeth got a new wire. I'm up to an 18 on the bottom teeth, which is the same as the wire size on top. I had the same assistant as last time. I really like her. She's gentle and combined with the fact that I took two Advil before this appointment and the last, the last two adjustments I have had were not particularly uncomfortable or painful. Nothing like my first adjustment on top and boy am I glad about that. My teeth are a bit sore now (a few hours later) but I like that because I know that my teeth are moving!
The assistant told me that she saw one of my teeth move as she was putting a wire tie on it. She said her stomach got a bit queasy. LOL! It was the same tooth that I noticed move on my own one day when I was brushing my teeth - it's the pre-molar next to the big gap. I laughed that she commented on it. She told me that the assistants and orthodontist see a lot of loose teeth throughout the day. Makes sense - if our teeth are going to move, they need to loosen up!
The orthodontist told me that things are going well and that I have been taking very good care of my braces, so to keep it up. Go me!
Picture time!
Not much of a difference on top, so I'll just post a picture of the bottom.
Before braces, back when I just had spacers in: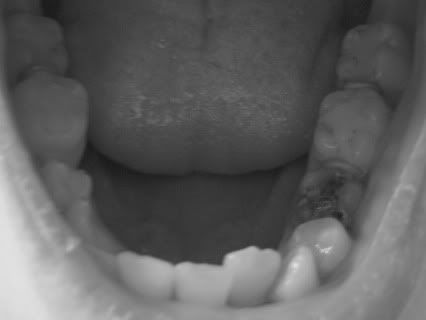 And now! I got my bottom braces on April 8, so it has been almost 2 months.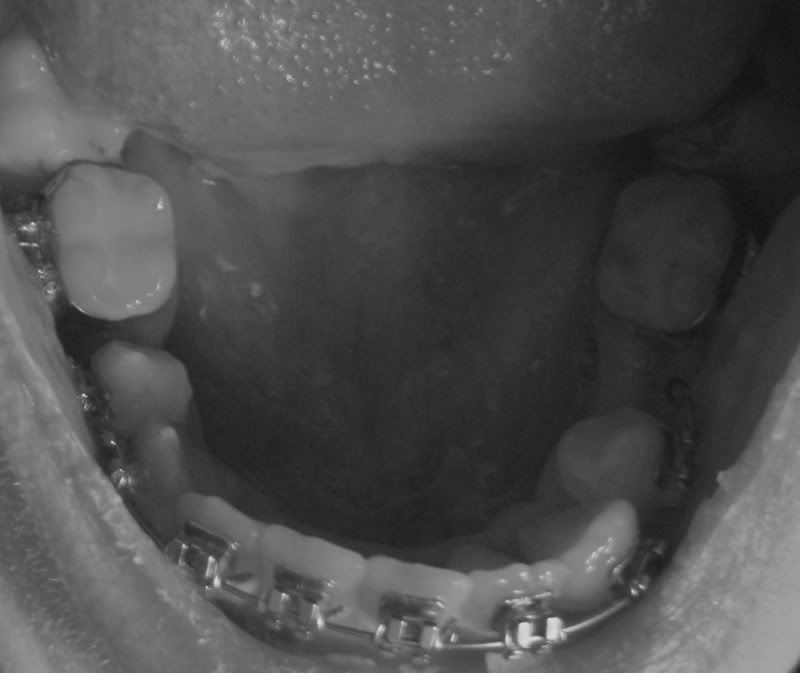 The wire I had placed on my bottom teeth today connects to the other molar now, so my teeth can finally start shifting over towards the gap!
Next adjustment: July 1st, 2009